56.3 Million bottles delivered
30% Savings vs our competitors
100% Canadian
56.3 Million
bottles delivered
30% Savings vs our competitors
100%
Canadian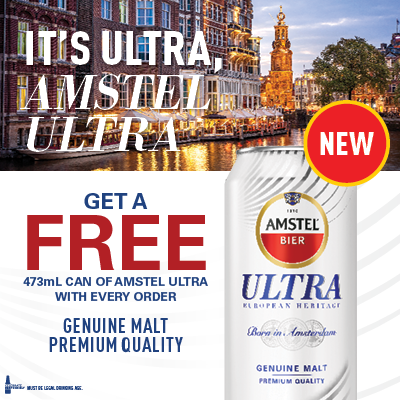 Receive a FREE sample of Amstel Ultra on your next delivery!
Introducing Amstel ULTRA, a refreshing brew born in Amsterdam, crafted by master brewers with a premium, genuine malt recipe and a smooth, easy-to-drink finish you can enjoy throughout the day.
Amstel ULTRA offers you a new choice to stay true to your lifestyle, without compromising taste and enjoyment. And, with 3.8% alcohol, it's a great choice to enjoy social moments for longer with your friends.
Get this delivered in 2 hours
3.8% ABV / Canada / MOLSON
Description
Amstel Ultra is a quality European beer that is low in carbohydrates and low calories, with only 90 calories per 355ml can. Using high-quality ingredients, this beer is light and refreshing with a clean finish. Enjoy chilled with friends and lighter meals.

Tags
You will be notified by email when this product is back in stock near you.
Only applicable when paying for order with credit card online.
*19 years of age or older. For a limited time. While supplies last. Offer applicable on any The Liquor Guy order. One (1) 473ml sample per order.
Barrie · Innisfil · Ancaster · Beamsville · Brantford · Dundas · Grimsby · Hamilton · Niagara Falls · Niagara-On-The-Lake · Paris · St. Catharines · Stoney Creek · Welland · Dunrobin · Kanata · Nepean · Orleans · Ottawa · Scarborough · Toronto · Ajax · Bowmanville · Brooklin · Courtice · Newcastle · Oshawa · Pickering · Whitby · Aurora · Bolton · Caledon · Concord · East Gwillimbury · Kleinburg · Markham · Newmarket · Richmond Hill · Stouffville · Thornhill · Vaughan · Woodbridge · Brampton · Georgetown · Milton · Burlington · Hornby · Mississauga · Oakville · Waterdown · Cambridge · Guelph · Hespeler · Kitchener · Rockwood · Waterloo